November Osgood location Karate Champions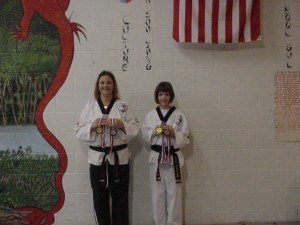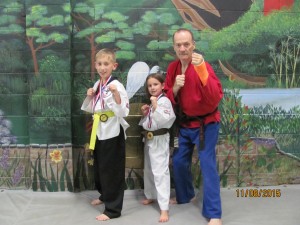 2015 TAE KWON DO CHAMPION
KOS 39TH ANNIVERSARY CHAMPIONSHIPS
HELD IN COLUMBUS, IN.
TOURNAMENT DATE: NOVEMBER 7, 2015
FROM LEFT TO RIGHT:
MELISSA RORK: 1st PLACE BREAKING, 2ND PLACE WEAPONS WOMENS BLACK BELT DIVISION
ANNABELLE WILLIAMS: 1ST PLACE BREAKING, 3RD PLACE FORMS 10 -12 YR OLD GIRLS BLACK BELT DIVISION
HENRY PETERS: 1ST PLACE FORM, 1ST PLACE BREAKING 8-10 YR OLD BOYS YELLOW BELT DIVISION
LAYLA EVANS: 1ST PLACE BREAKING, 3RD PLACE FORMS 7-8 YR OLD GIRLS BROWN BELT DIVISION
GRAND MASTER TAYLOR: OWNER AND INSTRUCTOR AT TAYLOR'S TAE KWON DO ACADEMY OSGOOD/MADISON LOCATIONS
SUMMARY:
Tae Kwon Do is a Korean martial art that has been in the Olympics since 2000.
Have you ever thought that you would like to learn a martial art? It will help get you in shape and keep you there. Plus as an added bonus of working out and practicing you actually get to learn something that will stay with you for the rest of your life. Imagine how you would feel knowing you can defend yourself. Sending your child off to college knowing they have martial arts training. Competition at tournaments is not mandatory but it's nice to see how you do against martial artists from other schools.
Tae Kwon Do is fun for the entire Family!
AND/OR
Be The Next Karate Champion In Your Neighborhood!
CALL NOW!!
TAYLOR'S TAE KWON DO ACADEMY
OSGOOD 812-756-1060
MADISON 812-265-2200
WWW.TAYLORTAEKWONDO.COM