October Tae Kwon Do Champion Osgood Location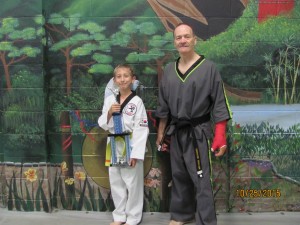 2015 TAE KWON DO CHAMPION
TRI-STATE CHAMPIONSHIPS
HELD IN LAWRENCEBURG, IN.
TOURNAMENT DATE: OCTOBER 24, 2015
FROM LEFT TO RIGHT:
HENRY PETERS: 1st PLACE FORMS 8-10 YR. OLD BOYS YELLOW BELT DIVISION
GRAND MASTER TAYLOR: OWNER AND INSTRUCTOR AT TAYLOR'S TAE KWON DO ACADEMY OSGOOD/MADISON LOCATIONS
SUMMARY:
At this martial arts tournament points were given during the
sparring competition on a contact basis. If blood is drawn then the
attacker is disqualified. There is a center referee, four corner judges and a time keeper. The competitors are marked red and blue and the rounds go for two minutes or the first person to score 5 points. There was also Olympic Style sparring for black belts at this tournament.
The weapons, breaking and form competition are all done the same way with
a panel of three to four judges and a score keeper.
There were over 100 competitors that attended this martial arts event.
BE THE NEXT KARATE CHAMPION IN YOUR NEIGHBORHOOD!
CALL NOW!!
TAYLOR'S TAE KWON DO ACADEMY
OSGOOD 812-756-1060
MADISON 812-265-2200