About Us
About Grand Master Jerry Taylor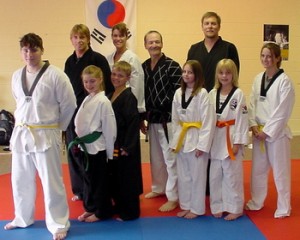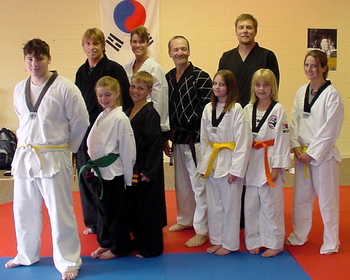 Above: Master Taylor (center, back row, black top and white pants)
with just a few of his successful tae kwon do students.
Internationally certified 8th Degree Grand Master Black Belt through the World Tae Kwon Do Federation –
Kukkiwon International certified Master Instructor
Kukkiwon Poom/Dan certified recommender

Grand Master Taylor has been teaching the martial arts for over 35 years in Osgood and over 10 years in Madison, Indiana –

Grand Master Taylor has been teaching kids and adults from age 5 years old and up since 1982 –

In that time over 250 students have achieved the rank of Black Belt through Taylor's Taekwondo Academies!
Call us at 812-265-2200 for more information about our programs.
Or, stop by either school to speak to us in person today!
Taylor's Tae Kwon Do Academy Madison
700 Cragmont St.
Madison, IN 47250
Phone: 812-265-2200
Taylor's Tae Kwon Do Academy Osgood
127 N. Buckeye St.
Osgood, IN 47037
Phone: 812-756-1060