Tae Kwon Do Champion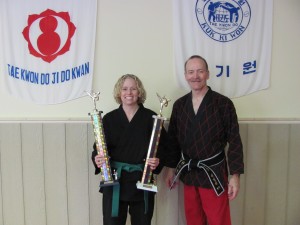 2015 TAE KWON DO CHAMPION
A TAYLOR'S TAE KWON DO ACADEMY STUDENT RECENTLY PLACED 1ST AT
"AHN'S CLASSIC"
HELD IN MASON, OHIO
TOURNAMENT DATE: APRIL 25, 2015
FROM LEFT TO RIGHT:
AMANDA BOLEY: 1ST PLACE SPARRING, 1ST PLACE FORMS WOMENS ORANGE BELT DIVISION
GRANDMASTER TAYLOR: 8TH DEGREE BLACK BELT
OWNER AND INSTRUCTOR AT TAYLOR'S TAE KWON DO ACADEMY
OSGOOD, INDIANA SINCE 1982
MADISON, INDIANA SINCE 2007
SUMMARY:
At most local martial arts tournaments points are given during the
sparring competition on a contact basis. If blood is drawn then the
attacker is disqualified. There is a center referee, four corner judges and a time keeper. The competitors are marked red and blue and the rounds go for two minutes or the first person to score 5 points. The forms competition is all done the same way with a panel of three to four judges and a score keeper. There were over 150 competitors that attended this martial arts event. 1ST, 2ND, and 3RD, place trophies were awarded at this event!
BE THE NEXT CHAMPION IN YOUR NEIGHBORHOOD
CALL: (812)-756-1060 or (812)-265-2200