Newest Promoted Black Belt at the Osgood Location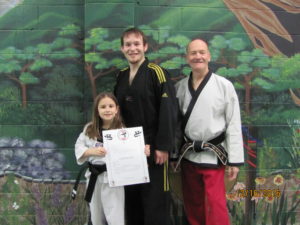 TAYLOR'S TAE KWON DO ACADEMY
IS PROUD TO ANNOUNCE OUR
NEWEST PROMOTED BLACK BELT MEMBER
(FROM LEFT TO RIGHT)
LAYLA EVANS: 1ST Degree Black Belt from Osgood, Indiana
MASTER TAYLOR: 5TH Degree Black Belt from Osgood, Indiana
GRAND MASTER TAYLOR: 8TH Degree Black Belt from Osgood, Indiana
(Master Taylor has 16 years of Martial Arts Experience)
(Grand Master Taylor has 37 years of Martial Arts Experience)
Imagine working out, getting in shape, having fun and learning something that will stay with you for the rest of your life. Tae Kwon Do is a Korean Martial Art that has been an Olympic sport since the year 2000.
To find out more about our great family programs.
CALL NOW!!
812-265-2200 Madison
812-756-1060 Osgood
CHECK OUT OUR WEBSITE
WWW.TAYLORTAEKWONDO.COM
WWW.MARTIALARTSMADISON.COM
BE THE NEXT BLACK BELT IN YOUR NEIGHBORHOOD!